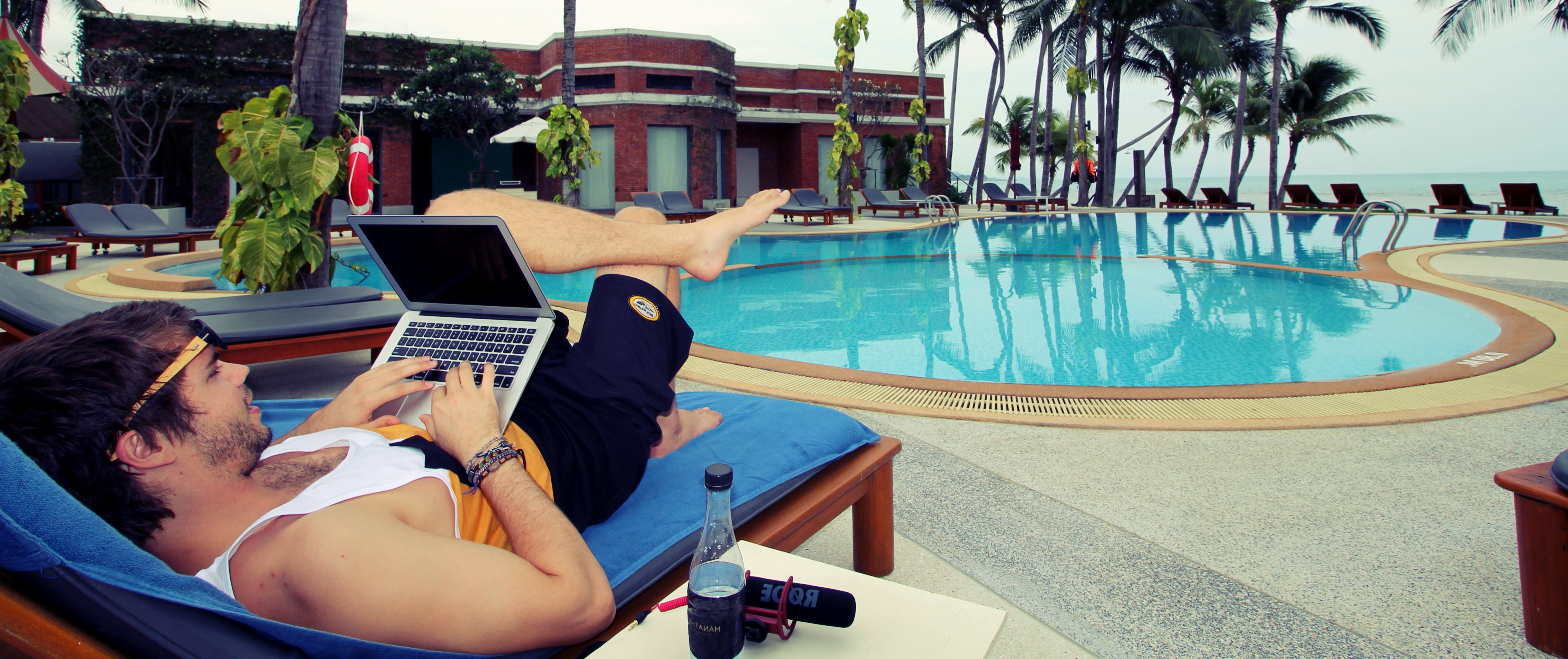 How to start a blog for the price of a coffee!
Do you have a passion you want to share? A small business you want to get out to the world? Or maybe you want to make an income while traveling the world!?
Well... Blogging could be your answer!
You DO NOT need to be a professional writer to have a blog...
Blogs are for the dreamers, the travellers, the mothers and fathers, the business owners, and everything in between! They're for people with passions who want to be able to do more of what they love.
Back in 2014, I quit my job as a plumber to pursue a life of full time travel while I made an income through my blog.

Unfortunately, while I do my best to inspire and encourage others to go out and pursue their dreams, many give up, as the setup process to start a blog seems too complex for them...
But let me tell you this... It doesn't have to be difficult! I mean, I was a plumber by trade... Not a tech wiz! And I was able to figure it out on my own.

So to make it easier on you, below I have outlined an easy step by step guide to getting a domain name, setting up hosting, and installing Wordpress.... And it can all be done in 10 minutes or less!
There are many ways to start a blog but you will have best control and customisation options by using a self-hosted Wordpress blog. This is what serious bloggers use, and what both our World Nate and Intrepid Introvert blogs use.

Note: The first step for setting up a blog is buying a domain and setting up hosting. If you are not sure about the difference between a self hosted and a hosted Wordpress site, check out this infographic. It explains it very well. My verdict... Wordpress.org is the way to go! Wordpress.com can be limiting and does not allow you to scale or monetise from your blog very well.
TO GET STARTED, HERE ARE A FEW QUICK STEPS:

1. Buying a domain name (this will be your web address/url eg. yourwebsitename.com)
2. Setting up hosting
3. Installing Wordpress to your hosting account
4. Installing a theme on your Wordpress blog!

Now, let's dig into this a little deeper...
STEP #1: CHOOSING A DOMAIN NAME
The domain name of my blog is www.worldnate.com. That's where people find me on the web and is the hub of my business. Choosing a good domain name/brand name can be tough for some. The trick is not to over think it! Your domain name/ brand name could simply be your own name!
Once you decide on a domain name, you buy it through the hosting company we are going to use. We will do this in step two. The one we will use, gives you a FREE domain for a full year, and then will usually cost around $11.99 per year thereafter. Okay, let's get this set up in the next step...
STEP #2: SETTING UP A HOSTING ACCOUNT
When you think of hosting think of it as somewhere your blog will live. You know when you build a house, you need a plot of land? Well it's essentially the same thing... You're buying some land to build your blog on.
It's a server in the cloud (i.e, a remote computer) where you will rent space to install Wordpress software and manage your blog from. It's far easier than it sounds (and to be honest you don't even need to understand the mechanics behind it haha), so stick with me!
There are hundreds of hosting services available. However, based on my experience and research, I recommend Bluehost. This is what Hannah and I both use and is one of the best options because:
- Bluehost is large and well known/widely used
- They offer excellent customer service
- Their packages are highly affordable (if you sign up with the link below, I've actually locked my readers a deal for $2.95/month + a free domain! That's the price of a coffee!).
- Their service provides extremely fast page load times.
- Bluehost is easy to use.
ACTION STEP: Click here to buy your domain and signup for hosting with Bluehost. I have provided a visual guide of the steps below.
*Important Update: If you don't use the above link and just go through Bluehost.com instead, the setup process will be much different. You will be up-sold on many different products such as e-commerce extensions after you register which are not necessary, and it will also not automatically install Wordpress for you. I asked Bluehost if they could make it different for our readers to make it simple for you. They agreed!
When starting, use this link, then follow the steps below.
BLUEHOST STEP #1
Visit this link (the same one as above). This will take you to the page shown below. Click the 'Get Started Now' button...


BLUEHOST STEP #2
Choose your plan. if you can afford it, I would highly suggest going with the 'Plus' or 'Prime' plan as you get unlimited storage and domain privacy (helps a lot).

If your budget is tight (I've certainly been there) go ahead and choose the 'basic' plan. You can upgrade later if need be.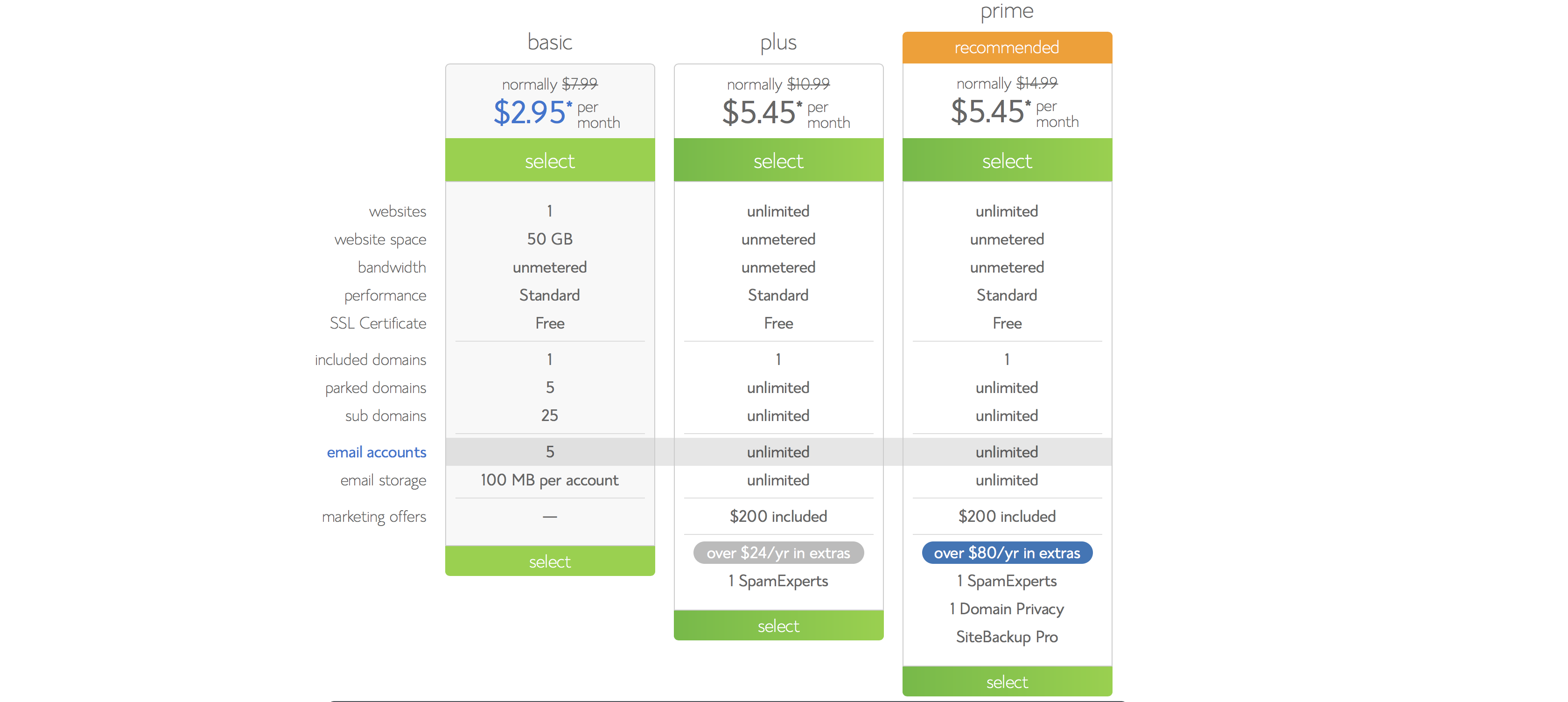 BLUEHOST STEP #3
Choose your free domain name or bring over your current domain (if you already have one with another provider).

BLUEHOST STEP #4
Enter your personal details.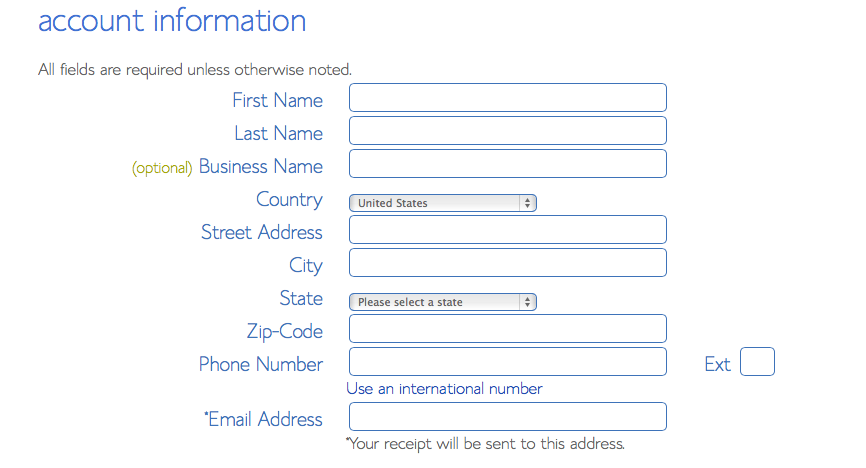 BLUEHOST STEP #5
Choose your plan and any extras which are optional but not necessary.
*With Bluehost, you don't pay monthly; you pay upfront, calculated by a monthly rate.
The monthly rate is determined by the period of time you select: either 12 months, 24 months, or 36 months.
The total for the period is charged at this point in time, and will be rebilled after 12, 24 or 36 months.
If you choose the 'Basic' plan. I would highly recommend getting domain privacy.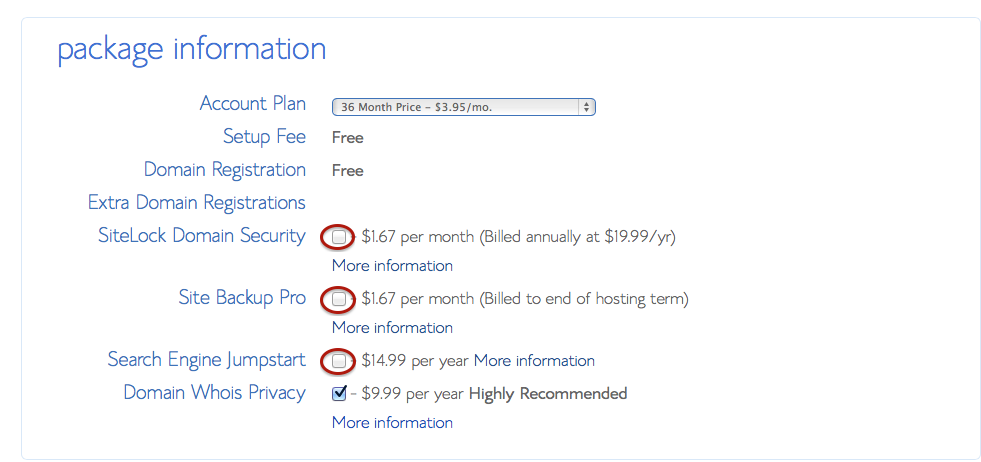 BLUEHOST STEP #6
Enter your billing information to complete your registration then click 'Next'.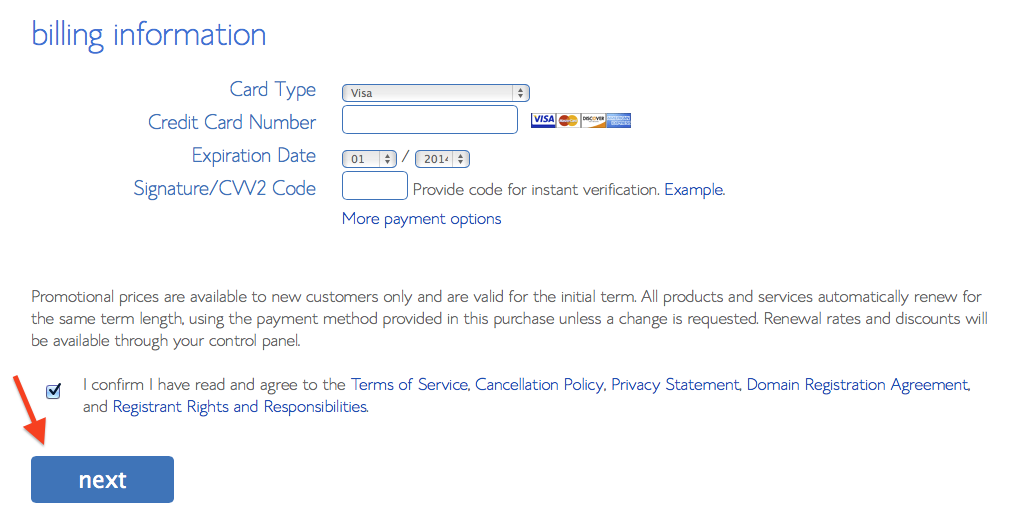 BLUEHOST STEP #7
Now it's time to create a password. Click the blue button which says 'Create your password'.

Type in your desired password then click the box to agree to the terms of service. Then click 'Next'.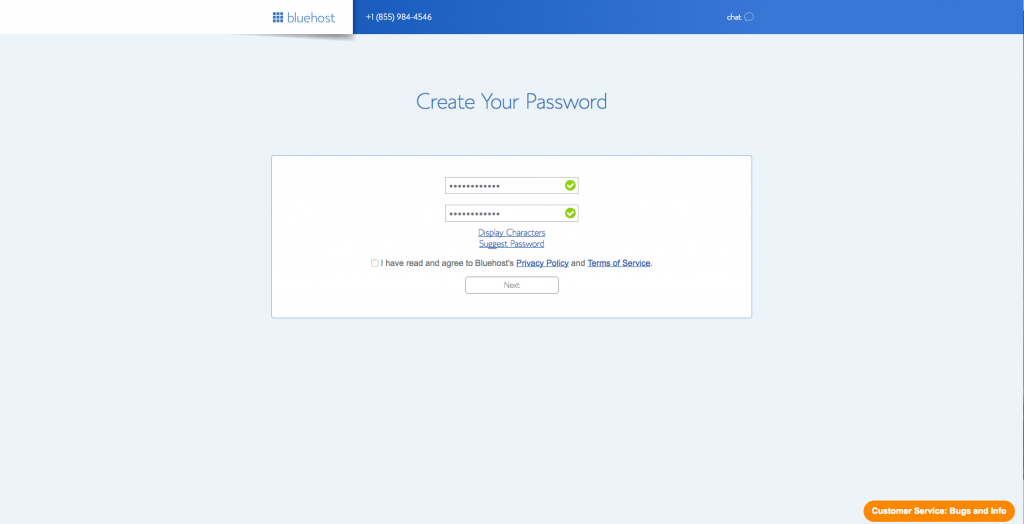 BLUEHOST STEP #8
Click the 'Login' button to login to your new Bluehost account.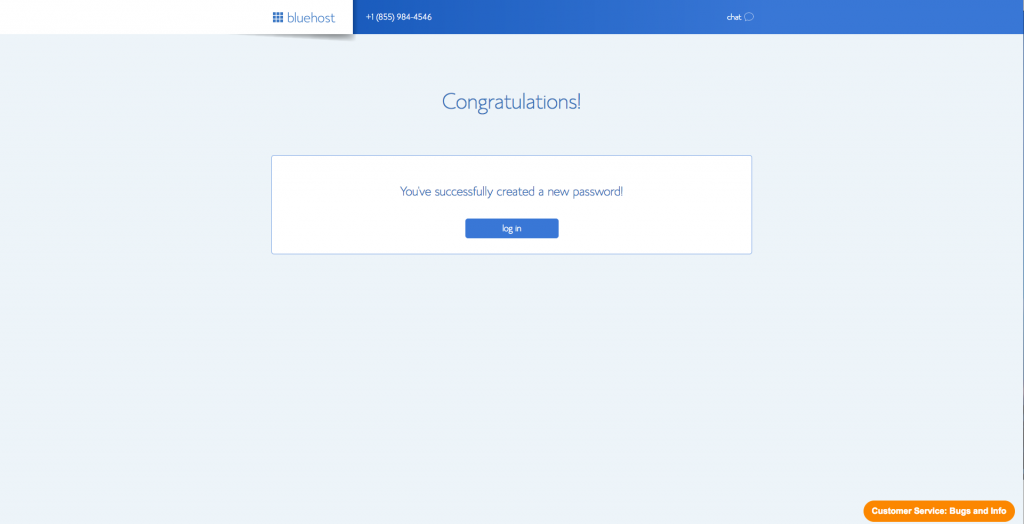 BLUEHOST STEP #9
Bluehost has made it super easy to install Wordpress and start a blog.
Pick a theme -this is how you want your blog to look... Don't worry you can change it later if you want. There's also a tonne of free themes so you don't have to pay for one unless you want a premium theme.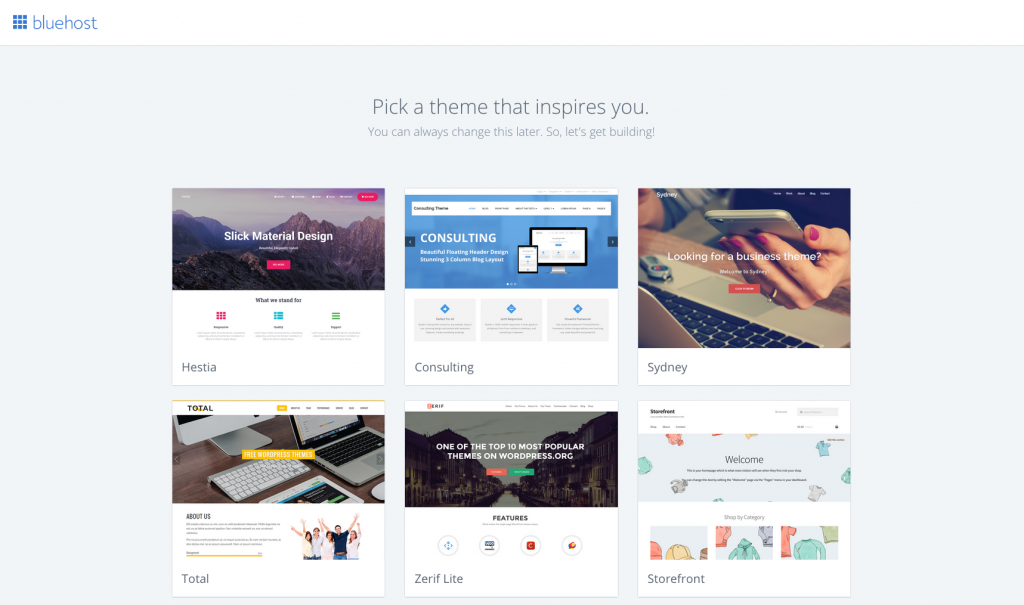 BLUEHOST STEP #10
All done! You are now ready to see your Wordpress dashboard and begin building your blog. Click 'Start Building'.

BLUEHOST STEP #11
You should now be in your Wordpress dashboard! Let's activate your blog... Click 'Bluehost' on the top left menu.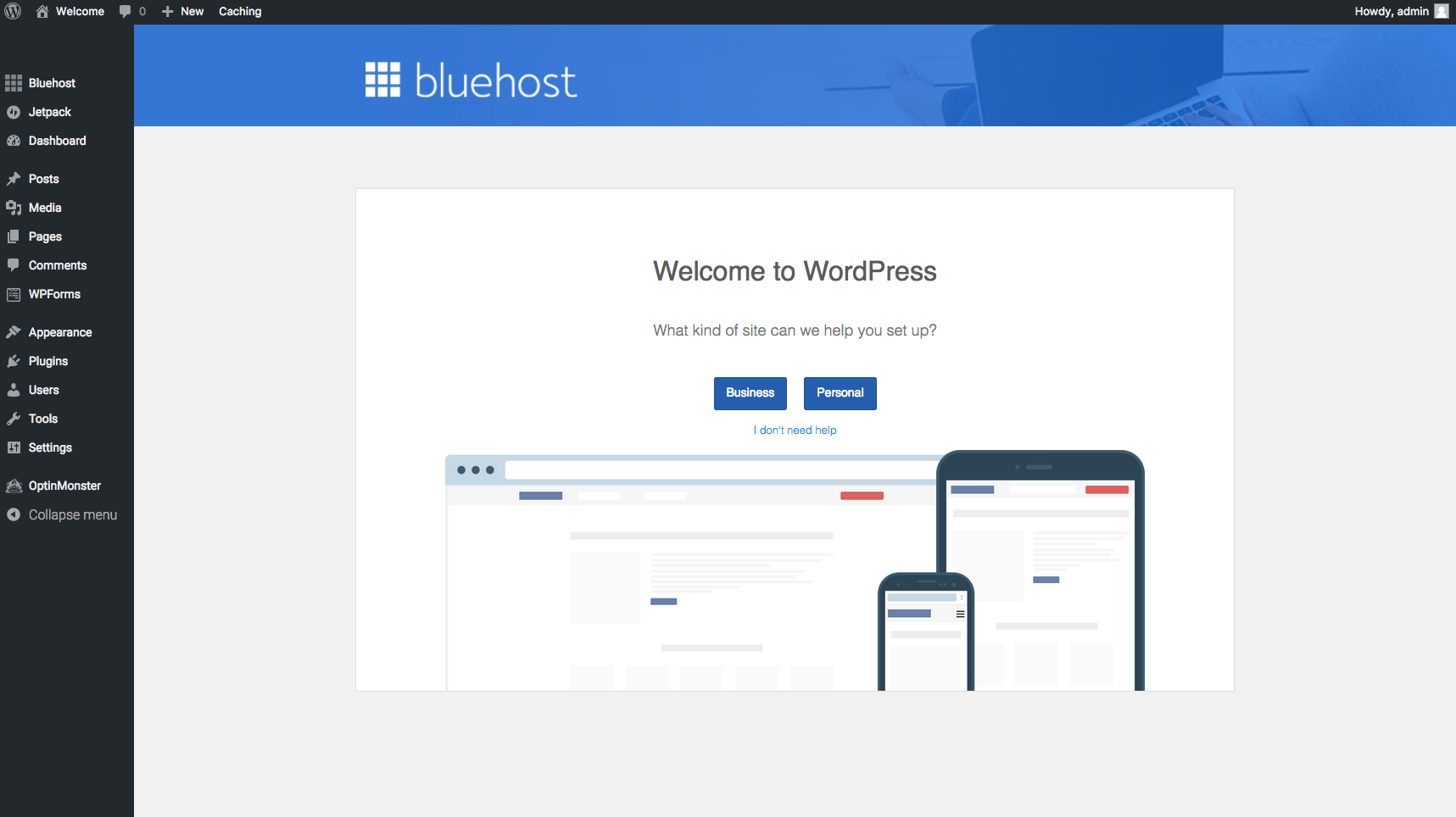 BLUEHOST STEP #12
Click 'Launch'... Don't stress, you won't have a million people viewing your site ;)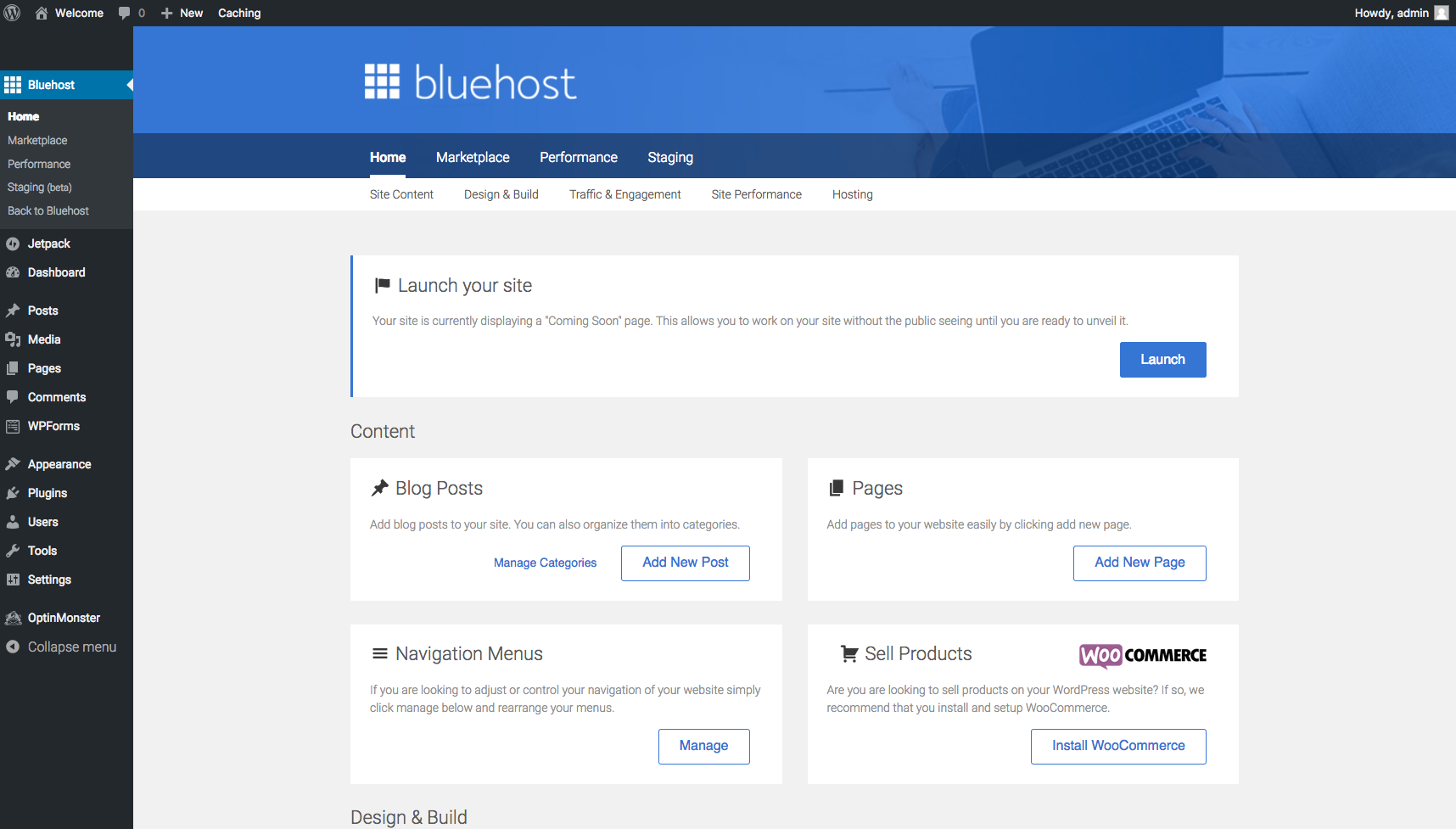 BLUEHOST STEP #13
Give your blog a title and a tagline.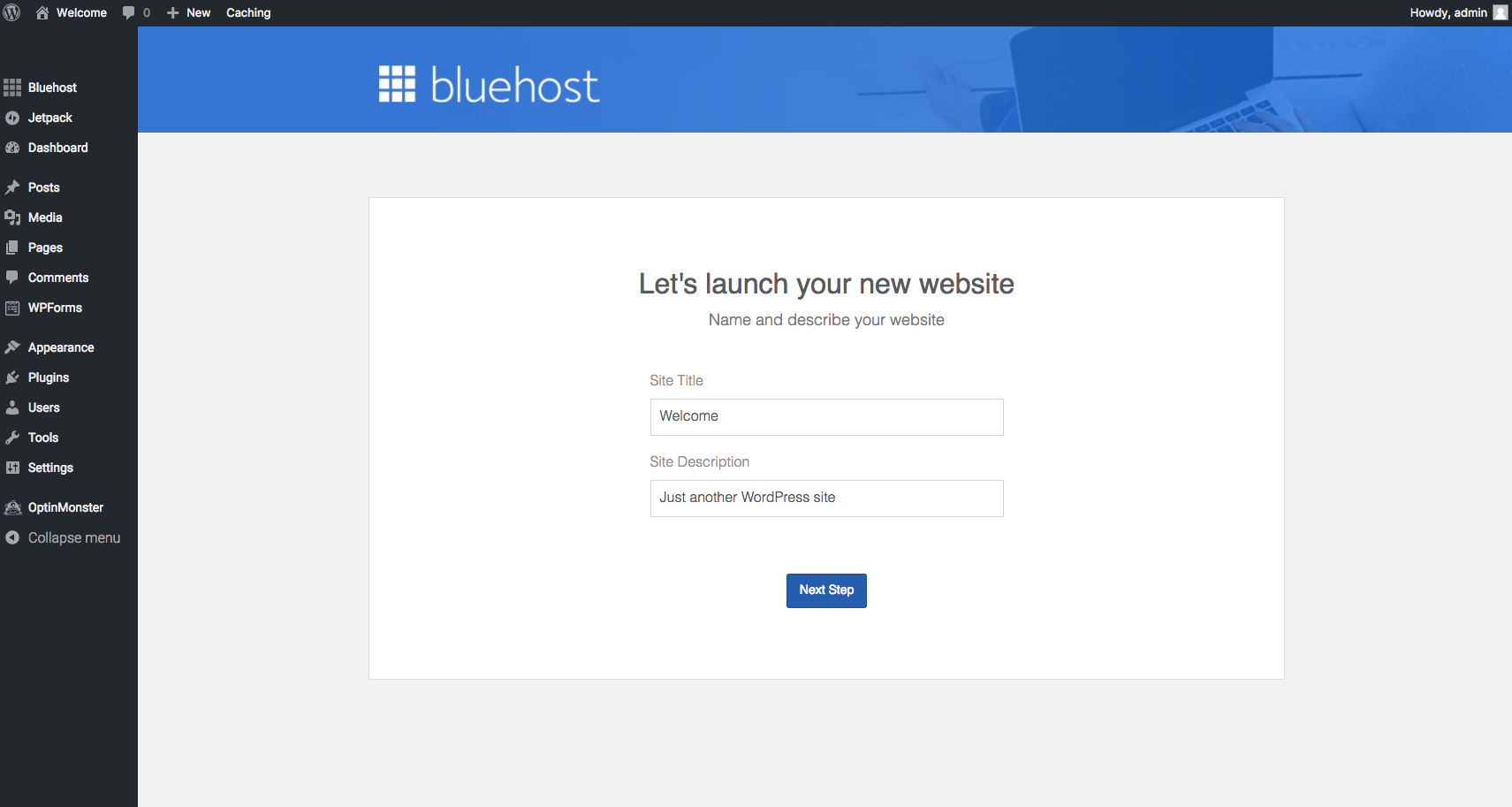 ALL DONE!
You're ready to roll... From here you can manage everything. Click 'Login to Wordpress' to start editing your site and making it look sexy ;)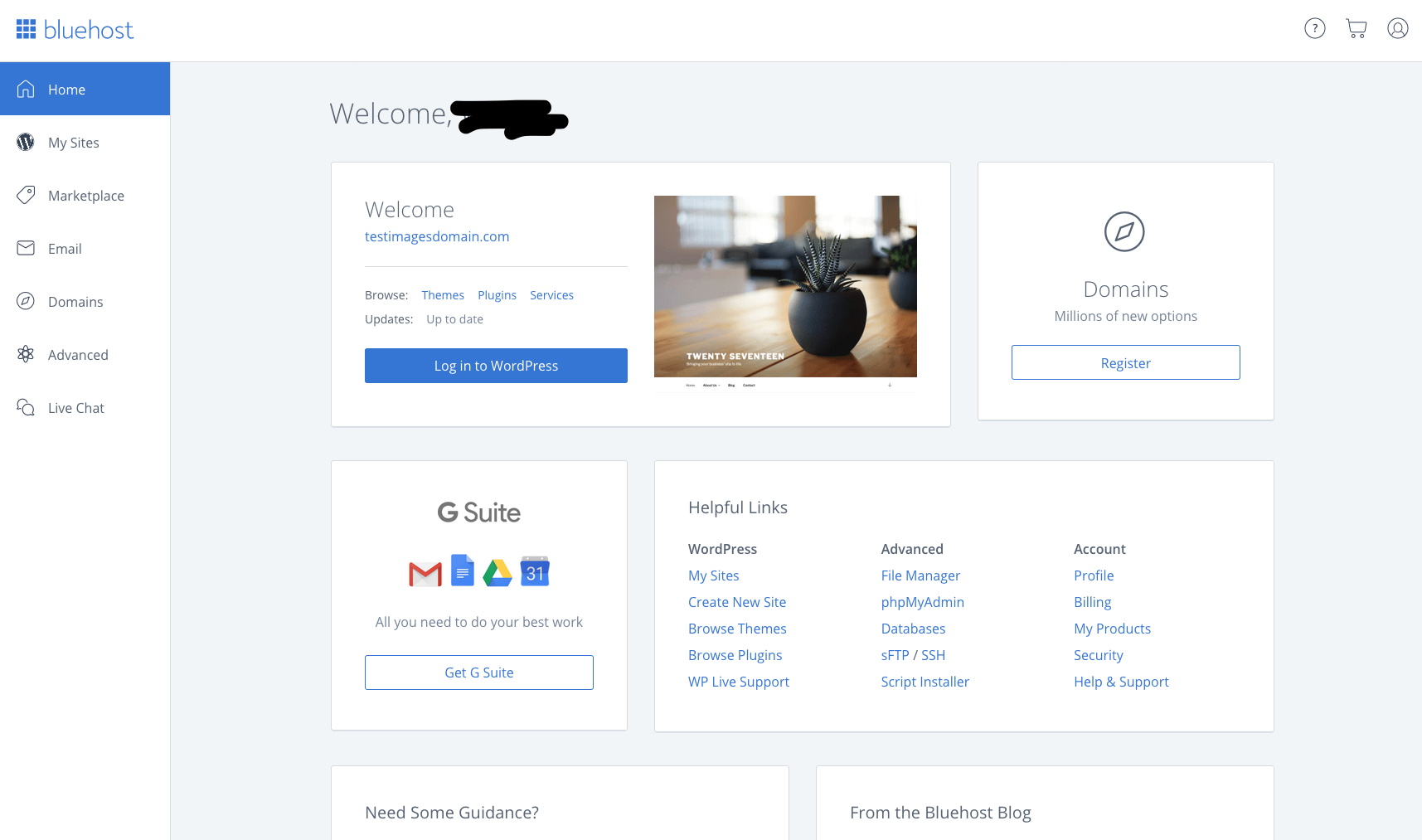 In terms of themes, Wordpress does provide free themes. But if none of them tickle ya fancy, you can look at some paid premium themes instead. I recommend Themeforest.net - They have some awesome themes.
Once in ThemeForest, in the navigation, go to 'Wordpress' in the upper left section of the page. Then choose your theme type and begin exploring thousands of themes.
After purchasing your theme, you will return to your Wordpress dashboard and click 'Appearance' > 'Themes' > 'Upload a new theme'. Here you will upload the .zip file of the theme you just purchased!
PLUGINS
One of the first things I suggest to do is install some essential plugins to help with certain aspects of running your site smoothly. Here are some of the ones I use:
- Akismet: Protects your blog from spam comments.
- Contact Form 7: So readers can easily contact you via your site. The form will get sent to your email.
- Dynamic Widgets: So you can choose which pages your widgets will appear.
- Facebook All: Perfect if you have a FB fanpage. it shows your page as a widget, so people can easily view and like your page and posts while still on your blog!
- Google Analytics Dashboard for WP: View your site analytics easily when in your dashboard. You can see the amount of visitors you have, where they come from, how long they stay etc.
- Google XML Sitemaps: Helps Google rank your site better.
- Instagram Feed: To have your Insta grid as a widget. readers can follow you with a simple click without having to leave your site.
- WP Canvas- Widgets: More options for widgets including an 'About Me' widget section.
- WPtouch Mobile Plugin: For a mobile friendly version of your site.
- Yoast SEO: A guideline for SEO on your posts and pages to help your content rank better on Google. The better your SEO, the better your traffic!
Congratulations! You have officially started your blog! This is only the beginning of an exciting journey for you. if you have any questions or issues, remember that Bluehost has great support. You can do live chat with them to get your technical issues solved. You can also post questions in our WC Facebook community if you are a part of Wired Creatives :)
If you would rather learn through video, check it out below: